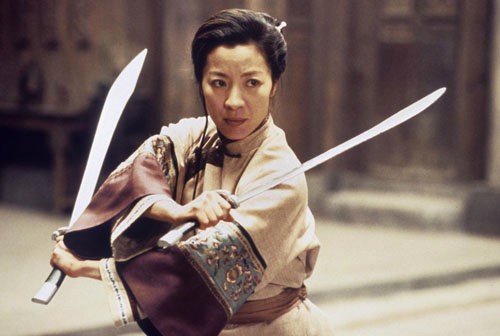 Hello everyone, smile, it's Friday! I should be happy right? I have the weekend to vent off a little. There's another charity event for
Banned4Life
at Drip Orlando tomorrow and I'll finally be getting a chance to catch
The Great Gatsby
. However, my smile dropped for a second as I was scrolling through the Top News on IMDb earlier today. News are that a
sequel
to Ang Lee's masterpiece
Crouching Tiger, Hidden Dragon
is in the works.
I'm not really sure how to feel about it (Yes, I'm in a mood for quoting songs today). There are pieces of art that one just doesn't and shouldn't touch. I remember almost thirteen years ago, sitting at a Cinemark movie theater in Juarez, Mexico with my dad and being blown away by this cinematic work of art. The beauty of the landscapes, the choreography of the martial arts, and the story truly impacted me; it doesn't matter if I was eight years old, that film really hit me. My dad and I liked it so much we even had dinner at "The Bamboo Palace."
From a fan's point of view, I'm not excited because Ang Lee isn't attached to the project and from the original cast, only Michelle Yeoh is confirmed to return. On the other side, from a producer's perspective, it makes total sense with the dramatic rise of cinema in Asia, especially China, both by filmmakers and fans. Also, The Weinstein Company is involved, so chances of a screw-up are less.
Remember the
Transformers
blogpost I wrote a few weeks ago? If you didn't catch it, click
HERE
to read it and understand more in depth what's happening overseas. (There's another relevant article that contains numbers. If you're a producer or distribution rep, you may want to click
HERE
).
I'll keep you guys updated as more new regarding this sequel come to light. In the mean time, feel free to share with me your thoughts and why you are in favor or not. Have a great weekend!